The Herbst appliance has been in used in dentistry since 1909, it can be used to treat bruxism, TMJ, snoring and OSA.
The Sleep Herbst Appliance is a mandibular re-positioning device that has been in use since 1909 in orthodontic and TMJ therapy, prior to its modification for treatment of sleep disordered breathing. The Herbst Sleep Appliance has been proven to be effective on chronic snoring and mild to moderate OSA sufferers.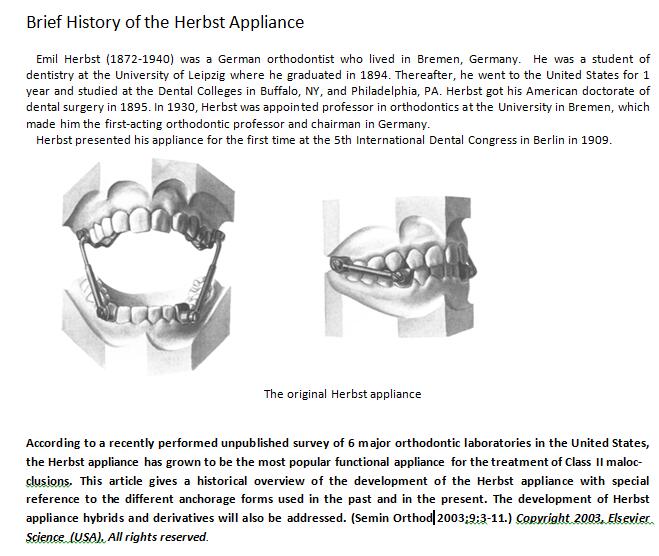 The Sleep Herbst Appliance is extremely successful in the treatment of nocturnal bruxism due to the fact it allows patients to move laterally and vertically without disengaging the appliance. The lateral movement built into a Herbst allows the patient to move the jaw freely. This movement allows synovial fluid to flow freely through the joint, resulting in less jaw discomfort and/or occlusal changes for the patient. This benefit is not found in monoblock appliances.
Key to the function of the Sleep Herbst Appliance is the adjustable telescoping arms on the sides of the appliance. If it is determined that the initial position does not provide the anticipated relief of the condition, the mandible can easily be moved forward by the Telescopic version allowing the clinician to advance in 1/8 mm increments by making one full turn of the protrusion collar up to 4 mm from the start!
https://china-ortholab.com/wp-content/uploads/2017/02/orthodontic-herbst-appliance-1.jpg
300
850
admin
https://china-ortholab.com/wp-content/uploads/2017/01/ort-logo-3.png
admin
2017-02-05 10:02:10
2017-02-05 10:02:10
The Original Of Sleep Herbst Appliance